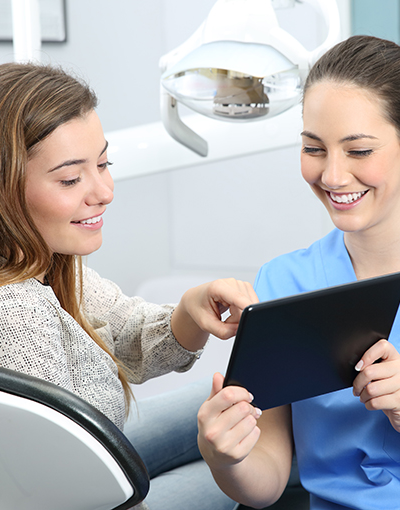 An orthodontic evaluation is the first step in your smile journey with Family Orthodontics South Carolina. Our orthodontists work with you to determine your smile goals and the best treatment plan to fit your needs. Before you know it, you'll be walking out of our office with the smile of your dreams!
What Can I Expect During an Orthodontic Evaluation?
An orthodontic evaluation is where the planning begins for your smile's future. The appointment begins with a tour of our office in either Camden, Columbia, or Lexington, SC. This provides patients with a look into their future surroundings and gives a quick rundown of how our team will assist you and your smile along this journey.
Next, you will sit down with your orthodontist, and they will thoroughly examine your teeth. Our orthodontists look for issues such as overcrowding, crossbite, or overbite, as well as conditions like tooth decay, gum disease, and digestive disorders. They will take these aspects, as well as others, into account when developing your treatment plan and helping you decide which type of braces is right for you.
An orthodontic evaluation appointment typically lasts 1 to 2 hours. This evaluation also gives our orthodontist a chance to see if any additional appliances are needed. Your orthodontist may recommend retainers, expanders, traditional braces, or clear aligners, and each of your recommendations will be described in detail during this initial evaluation. Your orthodontist will also provide you with details on the estimated length of treatment and how often you will come in for regular appointments.
Medical and Dental History Evaluation
To ensure the most effective treatment, your orthodontist will evaluate your medical and dental history. Before beginning orthodontic treatment, we will want to make sure any current medical or dental issues are under control. Your overall health can impact your dental health and orthodontic treatment, and vice versa. Our orthodontists will take a close look into your history to determine the right path for your smile.
Benefits of Early Orthodontic Treatment
Bringing your child to the orthodontist early allows our team to take a look into the growth and development of their teeth and jaw and determine if there are any potential problems that may arise. An early evaluation will help you and your orthodontist understand the future of your child's smile and if early orthodontic intervention is necessary.
Schedule a complimentary consultation at one of our conveniently located offices in Lexington, Columbia, or Camden, SC to receive an orthodontic evaluation and see if early orthodontic treatment is right for your child!